Unlocking opportunities in STEM
DMTC will work with the Australian Academy of Technology and Engineering (ATSE) and a broad partner group to deliver the Australian Government's 7-year $41.2 million "Boosting the Next Generation of Women in STEM" fund.
The transformational program will award up to 500 undergraduate and postgraduate scholarships to women in science, technology, engineering and mathematics (STEM).
The program aims to address gender inequities in STEM through fostering more women-led industry-academia collaborations in applied research and business, growing skills of women in STEM and by propelling women into senior leadership.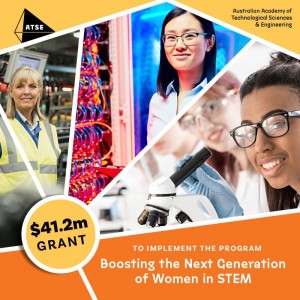 Elevate will also nurture a collaborative and innovative economy-building culture between Australian universities and Australian industry.

Elevate will be administered and delivered by ATSE as the lead organisation working with a diverse consortium of partners from industry and academia including ATSE's Industry Mentoring Network in STEM (IMNIS), Australian Technology Network of Universities (ATN), Cooperative Research Australia, Cicada Innovations, FB Rice, DMTC Limited, Gemaker, Women in Leadership Development Program (WILD), Women in STEMM Australia (WiSA) and Science & Technology Australia.

The new initiative aligns with DMTC's commitment to diversity and inclusion, including our focus on building alliances and advancing practical diversity and inclusion measures with our Defence innovation ecosystem partners.

The full ATSE press release is available here and the Minister's release about this and related initiatives is available here.

Posted by Harry Baxter on January 20th, 2022 Tagged: collaboration, DMTC, DST, industry, innovation, stem