Hub services contract with DMTC extended
A $3.9 million contract extension will help put cutting-edge capabilities into the hands of Australia's service men and women, and build industrial supply chain capacity.
Minister for Defence Industry Melissa Price said the contract extension would help build a vibrant and competitive innovation sector within Australia's defence industry.
Minister Price said DMTC had a strong track record of delivering for Defence and industry, from partnering with industry primes and their supply chains in sovereign capability areas, to building research networks and supporting future generations of researchers.
"I had the opportunity to visit DMTC in late 2019 and was impressed by their focus on making a positive impact across the defence and national security sectors," Minister Price said.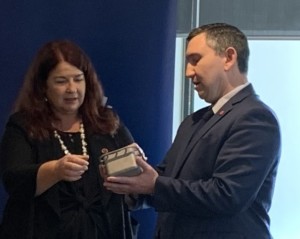 "It is partnerships with organisations like DMTC that help Defence identify innovative technologies being developed by Australian businesses."

The investment provided through the Defence Innovation Hub includes $1.65 million for research and development and innovation activities, and $1.1 million to support DMTC's supply chain development activities, many of which are in regional and remote areas of Australia.

"It is great to see Defence and industry working together to provide opportunities for businesses based in regional Australia," Minister Price said.

The full media release from Minister Price is available here.

Posted by Harry Baxter on August 17th, 2020 Tagged: collaboration, DMTC, Innovation Hub, technology