High honours for brilliant research and industrial partnerships
DMTC Limited has honoured the work of industrially focused research teams and individuals at its 2020 Awards for Excellence.
Technology development and innovation in areas as diverse as digitisation of defence equipment, aircraft maintenance and medical countermeasure development were acknowledged with awards.
Dr Mitali Sarkar-Tyson from The University of Western Australia took the coveted Collaboration Award, for her leadership of a multi-phase, long-term project developing novel antivirulence compounds against a range of disease threats confronting the military and the public health system. Dr Sarkar-Tyson has successfully marshalled inputs from a multi-disciplinary and international team.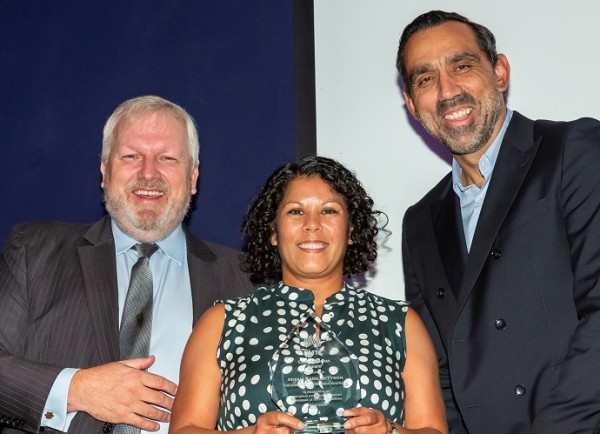 Alongside the awards, another significant highlight of the Awards dinner was the opportunity to hear from Adam Goodes, the CEO of the Indigenous Defence & Infrastructure Consortium.

Young researchers Dr Michael Candon from RMIT and Harry Veivers from the University of Queensland were joint winners of the Industry Partnership award, in recognition of their efforts on two different elements of a DMTC project with Thales Australia to design and produce next-generation soldier systems for Australian defence personnel. The project consists of a series of parallel technical investigations to take advantage of breakthroughs in lightweighting, digitisation and advanced manufacturing.

Dr Candon's work has achieved exceptional results, using complex modelling and machine-learning techniques to generate high-fidelity modelling and improve the speed and accuracy of simulated testing procedures. PhD candidate Harry Veivers' work is investigating new material for lightweighting and improved thermal management of small arms systems. This work has paved the way for the production of prototypes that are significantly lighter than existing fielded equipment. Candidate materials and modified manufacturing processes must pass rigorous testing to demonstrate that weight reductions can be achieved without compromising performance, reliability and safety.

Other award winners included:

DMTC CEO Dr Mark Hodge said every nominee for the awards, not just the winners, should rightly be proud of their contribution to DMTC's goal of enhancing Defence capability.

"These awards are about acknowledging the quiet achievers, while we also seek to showcase collaborations that are producing spectacular outcomes," Dr Hodge said. "This is work that is technically challenging but so very important in the context of Australia's sovereign industrial capabilities."

Posted by Harry Baxter on March 13th, 2020 Tagged: collaboration, Countermeasures, DMTC, innovation