DMTC takes next step in reconciliation journey
DMTC has launched its first Reconciliation Action Plan.
Our plan has been endorsed by Reconciliation Australia and aligns with that organisation's theme for 2021, which is "More than a word – Reconciliation takes action".
DMTC is publishing a Reconciliation Action Plan in support of the substantial contribution that First Nations peoples make, not least in the area of professional business operations. Being bold in seeking to unlock opportunities for Indigenous-owned businesses to contribute and succeed in our economy, including in the defence sector through DMTC, can only be a positive for Australia.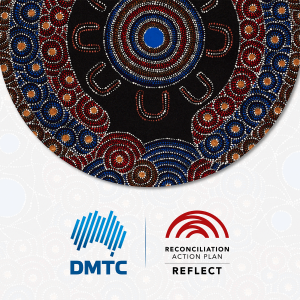 The release of the Plan does not reflect an 'end' in itself. It picks up on things we are already doing, and commitments to do more in the future. It is about highlighting practical actions that will have a meaningful and positive impact.

DMTC's strong focus on diversity will continue to be a key component of our approach to innovation. New perspectives are a vital input to our decision making and business processes and we are absolutely convinced that our commitment to diversity makes us a better organisation.

Posted by Harry Baxter on May 9th, 2021 Tagged: collaboration, DMTC, indigenous