Ground-breaking nanofibre technology is being applied to develop next-generation protective suits to safeguard Australia's defence force personnel against chemical attacks.
Funded through the Defence Innovation Hub, the DMTC team comprises research partners CSIRO, DST and RMIT and industry partners Bruck Textiles and Revolution Fibres. The team's efforts build on years of research that were initially funded through predecessor innovation programs in Defence.
Existing suits that safeguard military personnel against chemical agents are largely based on yesterday's technology. The suits are designed specifically for operating in hazardous environments for short periods, rather than being suitable for use over long periods or in a range of operational conditions.
The objective of the nanostructured fabric project is to provide better protection against aerosol and vapour threats with minimal extra weight or heat burden, allowing deployed forces to operate for longer periods in hazardous environments.
The most significant impact of the technology is that the nanofibres used weigh almost nothing but filter out dangerous chemical vapours as effectively as the existing material solutions that are far heavier.
Nanofibres are generally polymer fibres with diameters at least 100 times thinner than a human hair. The benefits of nanofibre technology are seen in everything from human tissue engineering and wound healing to drug delivery, battery systems and optical sensors.
The textile structure protects the wearer from airborne hazards travelling into the fabric while maximising comfort by remaining fully breathable, allowing heat to travel out of the fabric.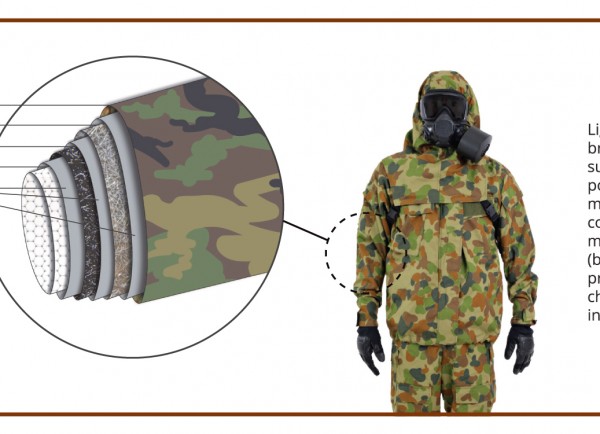 Four separate layers are fused together in a specialised configuration that does not compromise the nanofibre layer's porous quality and allows the finished fabric to breathe while still filtering particles and gases (as illustrated below).
Exhaustive testing has shown the new fabric to be highly effective at removing toxic chemical vapours and able to efficiently filter particles. To confirm its durability, the material also passed extensive flex testing with flying colours.
This Innovation Hub project is developing new technology to protect ADF personnel against a range of chemical, biological and radiological threats. Next steps envisaged for this technology include continuing to improve thermal comfort levels and progressing to prototype garment production and supply chain development.
The outcomes of this project are also expected to have applications outside Defence including for emergency workers responding to chemical spills or other toxic hazards.